USSA Alpine Masters ACE Scoring Overview
Author: Deborah Lewis
Date: 19-Nov-2002
The ACE (Alpine Competition Event) Scoring software is used to process alpine ski race results data to publish race results in a variety of forms of interest to masters competitors and provide event scoring capabilities such as combined events based on world cup or race points scoring systems.  Race data is organized by the calendar for a race series, which may be a specific event such as a regional or national championship or may be a longer term series such as the season race calendar organized by a USSA masters division.
Alpine Ski Competition Race Timing
Alpine Ski Competition Race Timing
USSA sanctioned alpine ski competitions use an electronic timing system with hand-timing backup to time competitors in the race.  Timing system software is used to manage the timing devices, record the timing data, and produce the reports and files required by USSA and FIS competition rules.
The primary purpose of the race timing software system is to support the operation of individual ski races: entry and editing of data about the race and the participating competitors, generating entry and start lists according to the competition rules, running the timing devices and recording the timing data during the actual competition, and producing results reports and data files that conform to USSA and FIS specifications.  A number of timing programs are available for this purpose and are used by race organizers. 
Timing systems used for USSA scored competitions must be able to generate a data file containing the timing results data for the race in a standard file format known as USSA SkiData format.  The detailed contents of this file are defined in a specification published by the FIS and USSA.  Starting in 2002-2003, the standard race results reporting format used by FIS and USSA is changing to an XML format, another text-based data format defined by a specification published by the FIS.  The SkiData and FIS XML files contain equivalent data.
The timing system software may also be able to export race results data in other formats.  In particular, a common text-based format known a CSV (comma-separated values) can be used as a data interchange format between programs.  A CSV file is also commonly supported by other programs such as spreadsheets, which under some circumstances may be the source of race results timing data rather than a timing system program.
ACE Scoring Tools
Figure 1 depicts how the USSA masters ACE Scoring software is used in conjunction with a race timing system to exchange and process race results data.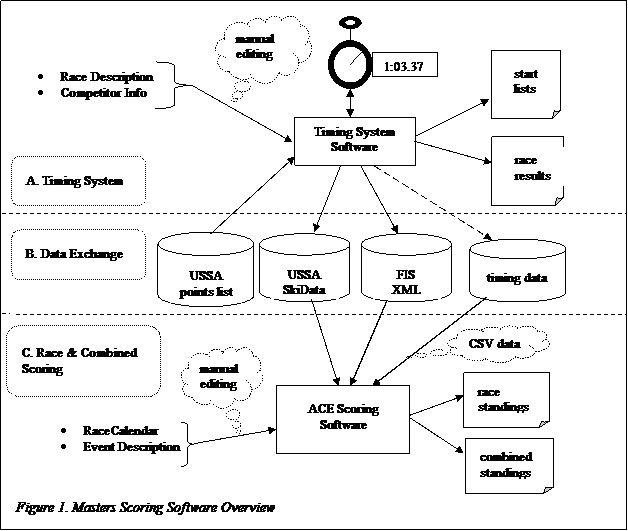 The ACE Scoring software can process race results data in USSA SkiData, FIS XML, or CSV text format.  As noted above, the SkiData and FIS XML file formats are standard formats specified by FIS and USSA.  CSV format is a general-purpose text-based file format.  The scoring software can read CSV format timing data files produced by any source and in a variety of column orders, so long as the data contains the basic information about competitors in the race (name, bib, class, times).
The scoring software generates race results in a variety of forms that are of specific interest to masters competitors (e.g., by age class, by gender, by national group).  Race standings provide both time and race points, calculated according to the organizing groupings used for the competitors.  Race points allow competitors to compare their results across different races and disciplines.  They can also be used as the basis for combined scoring (e.g., the triple-combined of the masters nationals championships).
The scoring software is also used to compute combined event standings for a multi-race event using various scoring systems.  Combined standings based on the "old World Cup points" system and on race points are currently supported.  An age-based-handicapping system known as Bernard Cup handicapping, in honor of its creator Bob Bernard, is also supported, along with Divisions Cup scoring for the USSA masters national championships.
Note: The scoring software can also be used to compute season standings for a masters division.  The cumulative world cup points system used by the Far West Masters is currently supported, along with a best-of-N-finishes world cup points scoring.  A version of Intermountain's scoring system which awards age class bonus points for their "super seed" competitors has been prototype; other season scoring calculations can be added in the future.
Race and combined event standings reports are produced in text and HTML format.  The HTML format makes it easy to publish nicely formatted results reports on web sites.
Note: The text format standings reports are in a very basic format.  A print report capability which generates a nicely formatted version of the results reports is under consideration and can be added if there is sufficient interest.
Contact Information
Deb Lewis
Director of Race Services and Scoring, Far West Masters
Email: djlewis@acm.org
Created: 28-Mar-2002 – MRST 3.0 release documentation (2001-2002)
Last update: 19-Nov-2002 – updates for ACES 4.0 (2002-2003).